I miss my old life.
I used to be multi-dimensional. I was a friend and a wife and a lawyer. I was a reader and a writer and a runner and a drinker. I cross-stitched and I had a huge wardrobe that fit. I got Botox. I worked out. I did my makeup. My hair wasn't falling out (and the pieces that remained weren't all wiry silver). My body was recognizable. My face was recognizable. My life was recognizable.
It isn't now.
Please don't take this as my being ungrateful for this life. I can assure you, I'm not. I'm overwhelmingly thankful for the little girl who made me a momma.
But when you spend almost thirty-six years living for yourself, the sudden shift causes some major whiplash.
My hair is falling out my the handful, so much so that I actually dread getting in the shower. I gently brush through my hair before I get in, resulting in a sink full of hair. When I get in, I cringe feeling the hair run down my back. When I run conditioner through my hair, I have to make a little pile on the side of the tub so I'm not Draino-ing every other day. I literally feel like Christine Taylor in The Craft after Fairuza cursed her.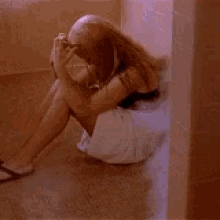 When my skin went into hormonal meltdown mode after Scout was born, I ended up noticing what would have become an enormous underground pimple. It hurt, and just as bad, I knew it would linger forever. I went to the dermatologist to get a cortisone shot, and for the first time in my life, it caused a divot in my cheek. I didn't have any scars or skin issues ever, and now, I have a sizable, red chunk in my right cheek that makes me sick. In this time when it's easy to go without makeup, I look in the mirror and spend an additional few seconds trying to recognize the person in the mirror; the one with the dull complexion, the atrophied vanity, the sunken eyes.
And yes, it is all for a great cause because I love that kid, but I don't think it's too much to ask that I be able to love the kid and love myself. To feel, at bare minimum, comfortable in my skin, my new, motherly skin.
I don't have any sort of ah-ha! moment to conclude this; only hoping that other moms are feeling it as well.